Anton Giacomo Bredow, Paula Lu, Katrina Tang and Diletta Bredow are all young teachers that were former students of Katya. Katya can recommend a teacher to help your child reach their full potential.
Anton Giacomo Bredow
Anton currently conducts Musicianship & Theory classes from a studio in Pymble.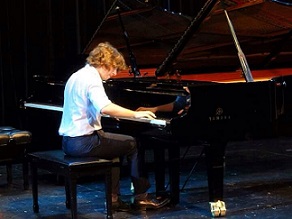 Anton Giacomo Bredow began piano lessons at the age of 8 with Professor Victor Makarov at the Australian Institute of Music (AIM).
While studying at the AIM, Anton Giacomo Bredowwas awarded a scholarship and also received lessons from Illya Zozulya, Katya Makarova and Alexey Koltakov. Anton attended Sydney Grammar School where he completed his HSC, and went on to study music at the Conservatorio Pierluigi da Palestrina in Cagliari, Italy where he was admitted with the highest possible marks.
Upon returning to Sydney, Anton Giacomo Bredow recommenced his studies with Katya Makarova at the AIM, and Illya Zozulya. He then completed his Bachelor of Music Studies, Honours (Class I) with Professor Neal Peres Da Costa at the Sydney Conservatorium of Music (SCM) where he was the recipient of the Patricia Bell Grant. In 2017 Anton commenced his Doctor of Philosophy at the SCM, under the supervision of Professor Neal Peres da Costa.
Anton Giacomo Bredow performs regularly as a soloist in Sydney, and has been teaching both piano and theory classes from his studio in the Eastern Suburbs of Sydney, and in the North Shore.
Anton Giacomo Bredow specialises in teaching children from a very young age, but has had success with students of all ages, from 4 – adult.
---
Paula Lu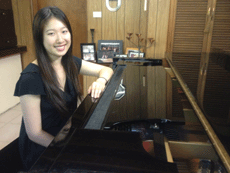 Paula began piano lessons at the age of 5 and since the age of 7 has been regularly competing and performing in major venues throughoutSydney. She has performed at the Sydney Opera House, on 2MBS FM, given a paid performance inShanghai,Chinaand has performed as a soloist with various orchestras. This includes the Grieg Piano Concerto with the touring Hunan Symphony Orchestra in Sydney Town Hall (age 13), the Liszt Piano Concerto No. 1 with the Penrith Symphony Orchestra in the Joan Sutherland Centre Penrith (age 15), the Chopin Piano Concerto No. 1 with the Kuringgai Philharmonic Orchestra (age 15) and the Tchaikovsky Piano Concerto No. 1 with the Kuringgai Philharmonic Orchestra at the Ravenswood Auditorium (age17).
Paula has obtained both her AMusA (2005) and LMusA (2008) diplomas and has been schooled at the Sydney Conservatorium of Music High School from Years 7-9 under the tutelage of P. Rickard-Ford. During her time there, she obtained distinctions and scholarships every half year in her music performance exams for 3 consecutive years. In Year 10 (2009), she accepted a full music scholarship offer at Ravenswood School for Girls and began studies with K.Makarova. She also chose to do the International Baccalaureate Course rather than the HSC and obtained the highest band in Higher Level Music with her performances and three piano solo compositions. At Ravenswood, Paula was a regular school accompanist for both choir and assemblies. She took part in jazz band, chamber ensembles and also participated as a chorus member in the school's production of Les Misérables. She won a song-writing competition in Year 10 and has also been placed both 1st and as runner up in the school's singing talent quest in the ensemble category.
In addition to school music activities, Paula has also performed widely as a competitor and her achievements include being one of the four finalists of the John Allison Piano Scholarship in 2010, being both Overall Winner 2009 and winner of the Multiples Section 2011 with K.Tang performing the Poulenc Two Piano Concerto in the Ku-ring-gai Secondary Schools Concerto Competition, reaching the second round of the ABC Young Performer's Award 2008 and winning Section 2 of the 8th Yamaha Youth Piano Competition 2007 and consequently competing at State Finals.
Besides performing, Paula has also been teaching music for 4 years. She has taught all levels of piano from absolute beginner to advanced students and all of them have shown success through the AMEB examinations and concert performances.
In addition to practical piano exams, Paula has taught musicianship and theory and all have achieved high distinctions in the examinations. As a teacher, Paula is very patient and encourages hard work and dedication from her students. Paula also offers additional help for students looking for extra lessons to improve their technical skills and to offer new and fresh insights into interpretations of pieces.
Paula welcomes interested students of all ages and will personally tailor lessons for the student's level of ability and style of learning. Paula has a private studio in theNorthShore that is very convenient and easy to access by public transport.
---
Katrina Tang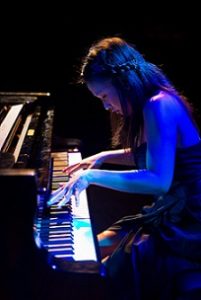 Katrina started piano at the age of 3 with the Yamaha Music School, developing fine aural skills, before commencing private lessons with Catriona Stafford. In 2006, due to both her high music and academic standards, she was the recipient of the Academic Music Scholarship at Pymble Ladies' College.
Soon after, Katrina studied with Katya Makarova and received her Associate Diploma in Piano in 2007. In 2009, being a cellist of the elite orchestra at her school, Katrina participated in the Music Tour to Vienna and the Scandinavian countries, an experience of the culture and the history of music. Later that year, she received her Licentiate Diploma and, driven by her interest in musicology, she began the 7th Grade Musicianship course and completed it in 2010.
In 2011, Katrina paired with Paula Lu, another talented student of Katya, and competed in the Multiples Section of the Ku-ring-gai Secondary Schools Concerto Competition. The duo thoroughly enjoyed this experience and won their section. This instigated Katrina's passion for ensemble works and two piano works, something she will pursue in the future. In November that year, she went on to win the Carlingford Music Award.
During her HSC year, 2012, Katrina participated in the Roger Woodward competition and became the recipient of the Roger Woodward Scholarship and the 2MBS-FM Recording Award. She took Extension Music for the HSC and topped the subject at her school. She also received full marks for Extension Music in the HSC.
Katrina was chosen as a performer for the 2013 Encore concert at the Sydney Opera House. She now studies a Bachelor of Commerce and Bachelor of Laws at the Australian National University Canberra, ACT.
---
Diletta Bredow
Diletta began piano lessons at the age of 11 with Professor Victor Makarov at the Australian Institute of Music (AIM).
She gave her first solo recital two years later at the Great Hall of her school SCEGGS Darlinghurst, where she was awarded an organ scholarship and later a full music scholarship. During her final years of high school Diletta was accepted into the Conservatorium's Access program. She was awarded the Wran Prize for Music Extension, the Ferrero Award for Outstanding Achievement in Italian and was placed 2nd in the state for German Beginners, 2nd for Italian Continuers and 3rd for Italian Extension. After finishing school, Diletta paused her music studies in order to study at the Leibniz Kolleg in Tuebingen, Germany. Upon her return, she studied harpsichord with Associate Professor Neal Peres Da Costa at the Sydney Conservatorium of Music.
During her Bachelor degree in harpsichord, Diletta played Vivaldi's L'Estro Armonico with the Australian Youth Orchestra, performing the set of 12 concertos at the Elisabeth Murdoch Hall in Melbourne. In 2011 Diletta completed a harpsichord building internship in Berlin with renowned instrument maker Claudio Tuzzi, where she worked with him on a harpsichord after a 1769 French double manual by Taskin.
She gave an inaugural recital on the instrument at the Dante Alighieri Institute in Berlin. Last year Diletta commenced her Masters degree, returning to AIM to continue her piano studies under Katerina Makarova. In July she was awarded Most Promising Pianist at the Australian Concerto and Vocal Competition in Townsville.
Diletta has been teaching privately since 2009 and among her students have been recipients of music scholarships to St Catherine's and Kambala, as well as students who successfully joined special OC classes and programs.
Diletta teaches from her studio in the city and at the Australian Institute of Music.
Feel free to contact Katya about any of the above teachers.