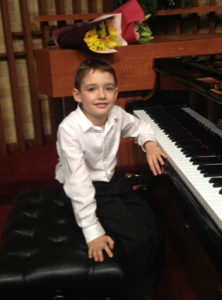 Tuition now offered on Sydney's North Shore in Pymble & Westleigh as well as Sydney (CBD) and Canberra (ACT).
Katya believes that harmonious development of a child's personal and professional qualities from a young age is very important so structures her course accordingly. Classes aim to explore, develop and expand the individual and natural abilities of every child.
Katya's program covers:
Development of a child's creativity and imagination through appreciation of art, music and literature.
Development of personal qualities such as will, determination, persistency, accuracy, confidence, self-control, sense of humour, self-analysis, tolerance of constructive criticism as well as empathy and compassion.
Development of concentration, memory and thinking.
Development of such professional skills as a comprehensive understanding of musical notation, rhythm and aural training.
In addition to the above, at every lesson children are introduced to different genres, styles and forms of music and learn about numerous musical instruments.
The tuition program serves as a first step in broadening a child's horizon as well as providing a wonderful preparation for further studies whether that is in the musical arena, including to a performance standard level, as well as perusal of a non-musical career path.
For more information about either piano tuition or theory musicianship classes please contact Katya.